My foundational premise for this project was to explore how the sensory and spirituality intertwine. I researched pre- and proto-historic sculptural effigies and the concept of 'sympathetic magic' (the idea that something and a representation of that thing are connected and can correspond with each other), focusing on how human spirituality is influenced by sense perception and the experience of sensorial objects forming connections between inner/outer worlds. Additionally, I brainstormed ways in which these ideas could be interpreted and expressed through woven tapestry 'monuments' that emphasize the haptic experience and bring the body and material back into sprituality.

In 'The Skin of Religion: Aesthetic Mediations of the Sacred' S. Brent Plate writes:
"Sense perception [...] is a primary component of our interactions with religious myths, rituals, symbols, and memories; and it is the fundamental nexus for understanding both religion and art, and particularly the passage between the two. With sense receptors as the crux of the matter, perception also links the inner world to the outer world, the body to the physical stuff around us, the body to the mind, bodies to other bodies, and ultimately the activities of perception are responsible for the formation of community and society."

There is a fundamental connection between sensory experiences and the profound, the spiritual, and the sacred. An ancient approach to haptic religiosity (a term used by Plate) was through statues or monuments, typically made of carved stone, wood, or ceramic. I look specifically at the basic forms/shapes of earthen and stone figures of ethno-religious importance in pre- and proto-historic cultures in what is now called the Near East and South Asia. These statues depict effigies - of living people, ancestors and/or figures of importance like deities and spirits (which are not inherently distinct from each other) and give them material presence. Often these figurines were made to be touched and held, rubbed under thumbs and fingers, held close to the body or sometimes destroyed entirely (Schmandt-Besserat). Textiles have a similar function, that inherent tactile quality that transforms our experience through more than sight alone.

These figurines, especially in South Asia both past and present, play a role in thousands of years of venerating the dead (Hays). Ancestor worship is still an important practice for millions of Hindus across the world as well as in the Islamic Sufi tradition, both of which played important roles in the formation of the Sikh religion (Khalsa). These tapestries are intended to function as personal effigies for my own ancestors and loved ones who have passed away. These ancestors are reimagined as various spirits with different characteristics and 'powers', such as a protector figure, a mystic, and a nurturer. They are monuments of grief and love, giving the ancestors they represent a sense of materiality again through a woven fabric that is created with my living hands, and that is then meant to be held and touched as well as be physically present in the space. These tapestries link the inner world with the outer world, creating new worlds and spiritual futures wherein the sensorial body is once again vital to religion and grief is a natural part of life.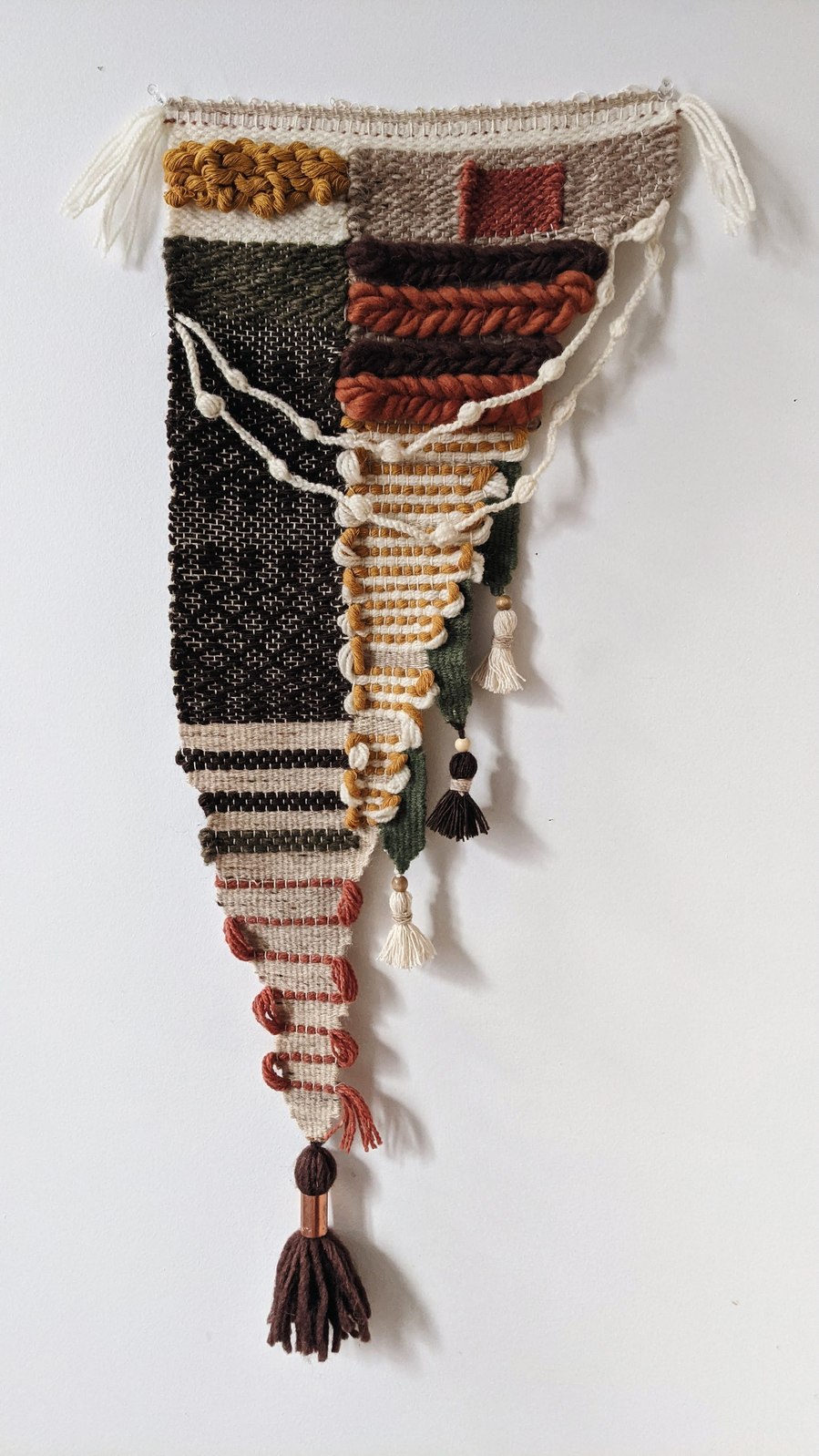 Works Cited
Hays, Jeffrey. "Hindu Worship: Puja, Darshan, Altars, Symbols and Personal Gods." Facts and Details, https://factsanddetails.com/world/cat55/sub388/item1350.html.

Khalsa, Guruka Singh. "Sufi and Sikh." SikhNet, 14 Nov. 2016, https://www.sikhnet.com/news/sufi-and-sikh.

Plate, S. Brent. "The Skin of Religion : Aesthetic Mediations of the Sacred." CrossCurrents, vol. 62, no. 2, 2012, pp. 162–180., http://www.jstor.org/stable/24461835.

Schmandt-Besserat, Denise. "'Ain Ghazal: The Human Clay Figurines And Ancient Near Eastern Magic." Denise Schmandt-Besserat, University of Texas, https://sites.utexas.edu/dsb/ain-ghazal/the-human-clay-figurines-and-ancient-near-eastern-magic/.

Sheils, Dean. "Toward a Unified Theory of Ancestor Worship: A Cross-Cultural Study." Social Forces, vol. 54, no. 2, Oxford University Press, 1975, pp. 427–40, https://doi.org/10.2307/2576644.

Smith, R.V. "The Ritual of Ancestral Worship." The Hindu, The Hindu, 30 Sept. 2019, https://www.thehindu.com/society/faith/pitru-paksha-shradh-the-ritual-of-ancestral-worship/article29557890.ece.